I was on-call at Baptist Hospital on Sunday evening. I was called around 6pm to help the staff in the Emergency Department.
When I went into one of our Trauma rooms, I saw the dead 2-year-old boy with his neck slashed from ear to ear. A clean cut and very deep. One of the physician's notes says he was nearly decapitated. The nurses tell me about the chest compressions they used to try and save his life -- each compression resulted in spurts of blood pouring from his neck. Subsequently, they arrested the mother who did not try to hide (or admit) her guilt in any way. It's a pretty open and shut case as far as guilt.
Here is the murderer and mother: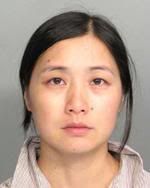 How could God let something like this happen to such a beautiful little boy?
Labels: chaplaincy, news